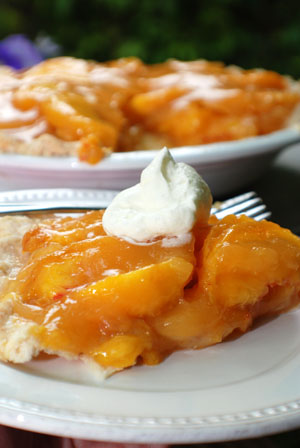 Peach Pie
Cookie Crust
Mix the following in the pie dish:
1/2 c. butter softened
1 c. flour
1/4 c. sugar
pinch salt
Mix together and press lightly into pie plate. Bake at 375 for 10 minutes. (If you press it in to hard, it's hard to cut.) Cool.
Glaze
3 T. cornstarch
1 c. juice (whatever kind you like that's orange)
1/2 c. sugar
Bring to a boil and cool a bit.
Spread bottom of shell with 3 oz. or so of cream cheese sweetened with powdered sugar to keep crust from going soggy. Then slice peaches into pie plate. Then pour glaze over and refrigerate to set.
party here:
Mandy's Recipe Box
READY SET EAT!