Wowser people, I been at the lake for 6 days.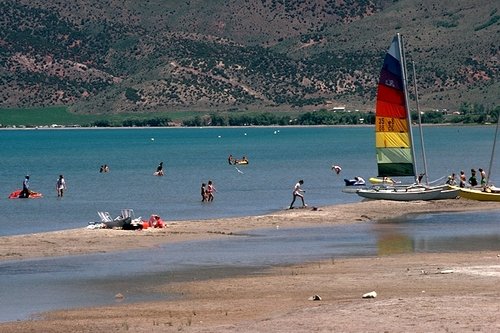 You know what happens in 6 days after sitting in the sun, putting your toes in the sand, and dozing off to the sound of water and happy kids

and a few unhappy ones?

Reading The The Princess Academy and the The Good Earth. Eating Raspberry Shakes from LeBeau's and having some family fun.YOU FORGET ABOUT REAL LIFE!
That is why we vacation, to rejuvenate and clear the cob webs! I feel Happy and ready to get going!
I did have a pleasant surprise when I returned home -
Apartment Therapy
spotlighted this Desk
Thank You!
Now it is time to get painting for a new Granddaughter due in 6 weeks! Here is a crib that is going to be painted white, it will be so cute!
Here is the big brother. He was keeping me company while I painted a Hutch. He likes to get all my umbrellas out and spin them and then line them up. Oh the simple joys of children!
Any one else staying up late watching the Olympics?
xoxo